Mari Cardenas: Colores de Valor Exhibition
January 24 @ 10:00 am

-

5:00 pm

PST
Experience Mari Cardenas: Colores de Valor prints and paintings from her 50+ years of Mari's artistic practice.
***To attend opening reception Friday, December 9, 5:00 PM-8:00 PM, please RSVP with alternate Eventbrite link. TY***
Mari Cardenas: Colores de Valor, curated by endy trece, presents a selection of prints and paintings from more than 50 years of Mari's artistic practice. The exhibition demonstrates how she bravely explored her spectrum of color, form, and emotions as a strategy for creating her happiness in different ways, using what was available to her within a life of painful experiences and circumstances. Alongside Mari's work, silkscreen prints by her peers at Self Help Graphics & Art will be included in the exhibition to bring us into her world of friendships and art practice.
Mari is a legacy artist who found her creative home and supportive friends at SHG during a time when there was little access to the art world for women, especially women of color, later becoming part of the SHG staff. She shares, "We all had to start at our kitchen table, and Self Help Graphics provided the friendships I needed to go out in the world and be part of an artist community as an artist and worker."
Now in her nineties, Mari continues to paint even though she has experienced macular degeneration in her eyes for years and has been declared legally blind, not allowing anything to stop her colores de valor.
++++
Know before you go to SHG:
? Masking is optional but encouraged.
?? Minors must be accompanied by an adult for the duration of their workshops.
? Share your memories. Tag us in your photos on FB @selffhelpgraphics, IG or Twitter @shg1970.
? No unauthorized professional photography allowed.
? Use gated parking adjacent to building or street parking.
? Our cultural center is also located directly across the street from Mendez High School and the Metro L Line (formerly Gold Line) at the Pico/Aliso station.
Do you have questions about our workshop or need to inquire about special accommodations? Please contact our administrative team at info@selfhelpgraphics.com or call 323-881-6444 with questions M-F, 10:00 a.m.-5:00 p.m.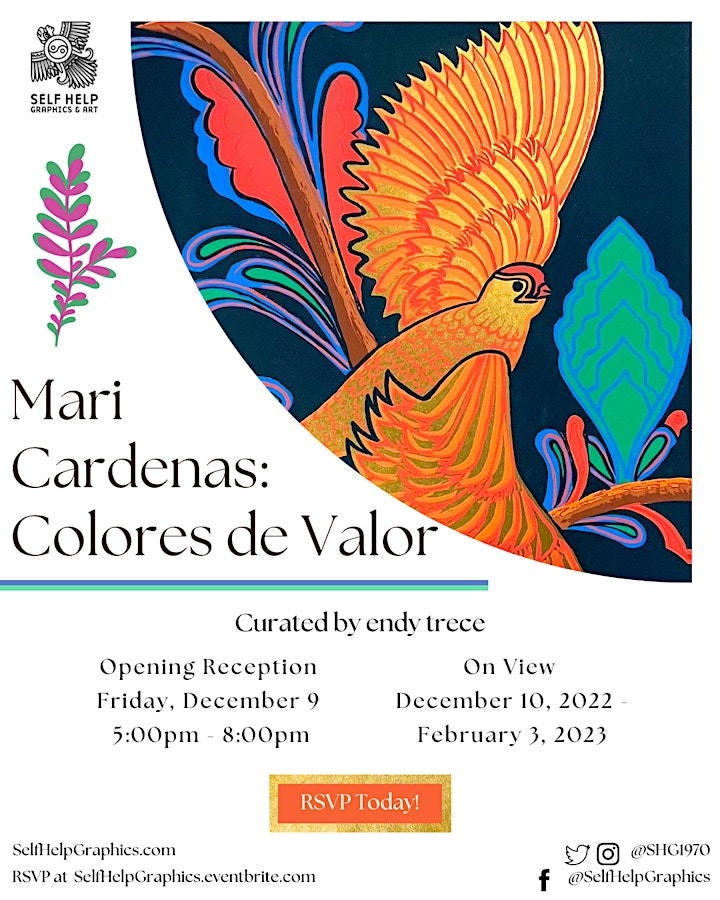 Related Events